I remember my first post on the Microsoft adCenter Blog (now Bing Ads) was similarly titled to the above. I'd just got back from about three conferences in a week that had crept up on me after a drought of face-to-face contact with people in the industry.
Well, 7 years on and this summer has been pretty bonkers in that regard.
First there was the BrightEdge #Share13 event in August during which I spoke about loving links beyond SEO on behalf of Majestic, who I have had the pleasure of being their US Brand Ambassador for over a year now.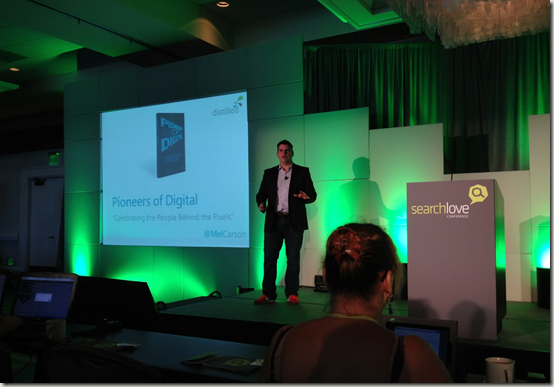 On Stage at Distilled's #SearchLove Conference
Then it was off to San Diego for #SearchLove organized by those lovely guys from Distilled. There, I was asked to speak about the book and kicked off proceedings by Celebrating the People Behind the Pixels. It was one of those conferences where your brain bleeds with the influx of new and scintillating information. Thanks to them for the invite. I've only just recovered!
Finally it was back to San Francisco for SES and a solo session on The Marriage of PR and Social Media, which went well enough for me to hopefully get asked back in the new year for their New York event.
Next week I'll be in New York for SMX East and then Vegas for Pubcon, so you can imagine how the missus feels about it!
During the BrightEdge event, I was interviewed by the fabulous Murray Newlands from Search Engine Journal which you can view above. I was talking about how you can use Majestic link data to discover influencers for PR outreach, especially as it's so easy to see competitor link information.
I'll also be spending 3 weeks with the family in the UK during November for meetings and a couple speaking gigs, so will be getting a few pints of real ale and pork pies in to satisfy my cravings!
If you're in London in November, let me know as I hope to meet up with some old faces while I'm there!