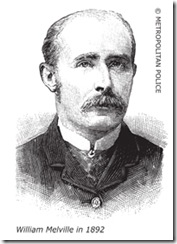 I often get asked what my first name is short for…………Melvin?…………Melanie? 🙂
Truth is my real first name is Matthew and Mel is short for my middle name – Melville!
Melville was my mother's maiden name and she was so rightly proud of it she decided to continue the tradition beyond her generation by sticking it smack bang in the middle of mine.
The reason she was proud was because many years ago my great great uncle William Melville had quite a job as head of Special Branch.
"Melville of the Yard" as he was known was born in Ireland in 1850 and moved to England to join the Metropolitan Police in 1872.
Within 7 years he was a detective sergeant in the CID and joined the Irish Special Branch in 1883.
For the next few years he was involved with the surveillance of Irish-American bombers, foiling plots to blow up Queen Victoria's Jubilee celebrations, chasing Jack The Ripper and tackling French anarchists on Victoria Station.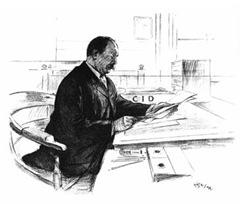 In 1893 he was promoted to head of Special Branch and became much more visible as bodyguard to Queen Victoria and other heads of state as they visited, counting Harry Houdini as one of his friends.
Then it really started to get interesting!
"In 1903 the War Office set up a Directorate of Military Operations, which needed a field operative to deal with intelligence gathering. Melville was headhunted for the job, and his role was to act as a general controller for War Office agents abroad as well as to undertake a number of secret missions of his own at home and abroad. Melville would report to Captain Francis Davies under the alias of 'M'. On 1st December 1903 Melville began his new career as an espionage agent under the name of William Morgan, General Agent. His office was in Victoria St, adjacent to Scotland Yard." 
He died in 1917 still teaching at his "Spy School" and working as hard as ever to safeguard the British people from terrorist threats.
So when you trot along to cinema to see the latest James Bond epic, just remember there was a real guy doing all that stuff over a hundred years ago…………………………and he's why I'm called Mel!
Liked this blog post?
Subscribe to the RSS feed or to email updates!