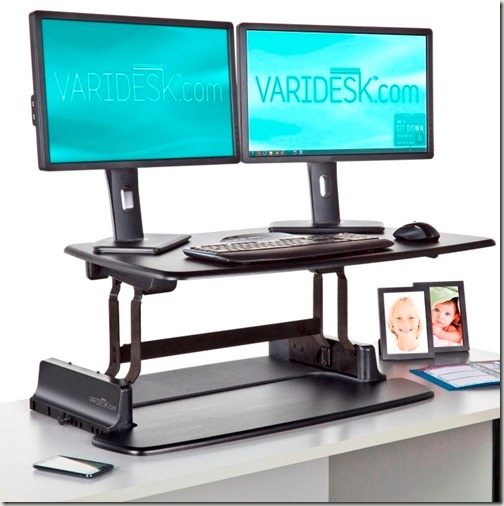 This not my real desk. Far too tidy!
In my usual New Year resolution mode, I decided early in January to try and improve my workspace at home in an attempt to increase productivity. I've heard about treadmill desks from a number of articles (including this one by Danny Sullivan) and decided to delve a little deeper.
Much research later, I decided to stick with just the standing desk.
Why?
I live in Madrona, which is a very pretty part of Seattle, and felt I really should be getting out more. I now make a point of going for a 30 minute walk around the neighborhood pretty much every day.
I decided to buy the Varidesk, not just because of price (it's just $300), but because all the reviews that I had read said that the design was a really solid and easy to operate.
The Pro version, which is really just a bigger version of the regular one, showed up as promised a few days after ordering. It took very little trouble to get it on my home desk, and it worked perfectly within about 10 minutes of arranging my monitor and various peripherals in a nice and tidy fashion.
You can download an app by Varidesk which pops up now and again telling you when to sit down and stand up based on your preferences, but I now find I don't really use it because I'm pretty much standing most of the day.
Like others who have "seen the light", I do find that I focus on completing tasks a lot better and I'm convinced standing for five-odd hours a day has contributed, along with a dry January and fitness regime, to me losing 10 pounds this year so far.
The good thing for Varidesk is now anyone who sees my work setup has said they'd want one! I really think they are well-placed to sell a hell of a lot of these things, especially given they are so much cheaper and easier to install than the competition.
So what are you waiting for? Ready to stand up for a living and reap the rewards? Sitting could be lethal!