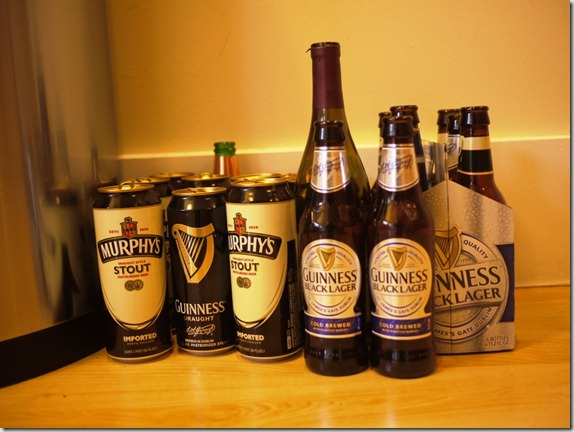 Remnants from last night…
Ask me yesterday how many St. Paddy's days I'd celebrated in England over the last 40 years, and I'd have replied precisely "zero".
We just don't do it. I don't know anyone who does.
But in America?
By the time the England v Ireland 6 Nations Rugby game started yesterday (10am PST) the lovely McGilvra's, in Seattle's Madison Park area, was starting to fill up with people wearing green tops, socks and even green fingernail polish.
These people were not there for the rugby – we beat the Irish on their special day in case you were wondering

– they were there for the craic.
By the time the game finished the place was starting to burst for lunch and was doubtless thumping well into the night.
Later in the day, Ashley and I ended up hosting 10-odd people for dinner – corned beef and cabbage cooked fabulously by her sister Colleen – and we got through a good amount of Guinness and (my favourite stout) Murphy's.
For a Brit whose heritage is most definitely Irish on at least one side of the family, I find the whole "holiday" thing surrounding St. Patrick's Day astounding and endearing.
For such a proud nation, that leaps to its feet at the opening bars of the Star-Spangled Banner, the fact the whole country seems to turn green on the 17th March every year (even if the person in Gaelic fancy dress has "zero" connection with The Emerald Isle), just shows how relaxed they are about the cultural melting pot they've become and how up for a good time they are.
Since I've lived in the US, I've been to Jewish festivals, Greek festivals, Halloween parties, Oktoberfest shindigs and the obligatory 4th of July party. For most of them, they were firsts for me.
Although I initially balked at the thought of "celebrating" St. Patrick's Day through my in-built British sense of " but that's for them", I'm glad I did, as we all had a blast.
Now I'm looking forward to St George's Day on April 23rd which I'm going to be proud to celebrate with my new Seattle family.
Roast beef and Yorkshire pudding anyone?
Liked this blog post?
Subscribe to the RSS feed or to email updates!