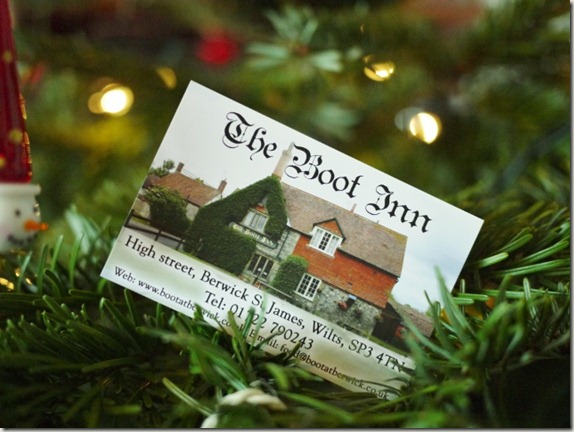 With a hearty Christmas over and done with friends, it was off down to the West Country to visit family in Devon and Somerset.
The route from Richmond towards where the famous Cornish Pasty was invented is easiest via the M3 motorway and the long and winding A303 road that takes you through Hampshire, past Stonehenge in Wiltshire and beyond.
A typical trip might take 4 hours, so we decided to venture off the melting track and try and discover a local hostelry which served a decent lunch and, more importantly, a decent pint of real ale.
A couple of searches pointed to The Boot Inn, a beautiful pub snow-nestled in a quaintly named village called Berwick St James, just 7 miles from Salisbury.
We had booked a table as it was the holidays, and we did call twice on the way to say we were going to be late because of the damn traffic.
Fortunately they held the table, a snug one for the two of us right next to a crackling fire adorned with pottery beer mugs, and set about serving some cracking Wadworth 6X beer and pointing out all the different food choices they had on.
We could either choose from an extensive bar menu, or opt for a smorgasbord of British a la carte dishes all cooked to order.
Ashley went for the steak and cheese sarnie, while I plumped (literally) for the devilled chicken livers with mushrooms on toast AND slow-roasted duck and new potatoes with a glazed orange and watercress salad drizzled with truffle oil.
The liver and mushrooms was a kicksome creamy concoction; a pink-in-the-middle delight that simply oozed decadence (and I'm sure a large dollop of cholesterol too)!
I should have stopped there, but I had been intrigued as to what a glazed orange salad might turn out to be, and I wasn't disappointed.
It appears the chef could be bothered to sprinkle the semi-tart orange slices with sugar and blow-torch them into a crispy sweet toffee that mixed with the duck, zesty orange and divine truffle flavour, created a taste bud sensation that I'm still fondly savouring 4 days later!
Ashley's steak sandwich was gobbled up with some crispy potato wedges – consumed by way of defence from the cold I was told – and they even happily wrapped up half of the meaty/cheesy goo to be finished off by me the next day for lunch.
A quick double espresso set me up for the 2 hour drive ahead, and when Ashley paid the bill, the damage was a paltry £40 including tip.
I'm not sure what I was expecting when I picked Berwick St James off the map, but I was not expecting the best pub lunch I've had in years.
Now I kind of wish it was Christmas once a month so I'd have an excuse to visit family via The Boot Inn more often.
Well……I did say kind of….