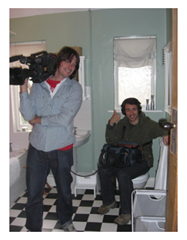 This week is going to be awesome for all of us!
Awesome for me because on Thursday I fly with Ashley and some of the finest minds in online marketing to Reykjavik in Iceland for the Reykjavik Internet Marketing Conference.
Awesome for you, because you're going to have the laugh of your life on Friday 20th at 5.15pm if you watch BBC 2 and catch us touring the wilds of East Sussex looking for a house to escape to with Alastair Appleton of "Cash in the Attic" fame!
You can see some of the photos of the four day shoot here and the funny thing is, because we're at the conference, folks over here in the UK will be the first to see the show so please let us know what you think/laughed at.
To be honest it's a little nerve-wracking as there was so much footage there could be many angles they could take – I just hope me quoting Tom Hanks in Forrest Gump by accident has made it to the cutting room floor!
As for the conference, well Kristjan Mar Hauksson has done a great job assembling the likes of Rand Fishkin, Shari Thurow, Anne Kennedy, Dixon Jones, Andy Atkins-Kruger and Adam Lasnik to inject some internet marketing know-how into the Icelandic marketing community.
I'll be speaking on online youth marketing with Sion Portman from Nike which I'm looking forward to enormously!
Have to say, Kristjan continues to be one of the best loved, jolliest and most generous people in the industry.
He'll be in New York for SES so say hi and buy him a beer or 5!