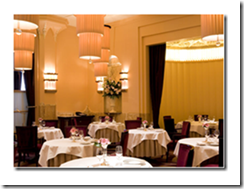 This is a picture of Gordon Ramsey's place at Claridges in London 🙂
Now Dave has offered to buy some lucky winner AND a friend dinner next week while he's down for A4U.
The newly married & exhausted Joost De Valk will also be there to add a bit of European sophistication to the evening's proceedings because Dave and I are from England – not Europe!
All you have to do is leave a comment on Dave's blog telling him why you want to have dinner with us!
Apparently Dave wants me to choose the venue – anyone got any ideas?
Liked this blog post?
Subscribe to the RSS feed or to email updates!