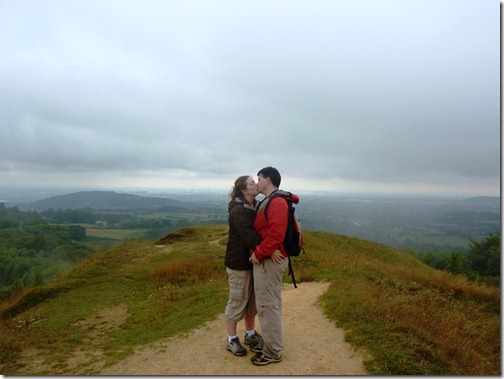 Taken at the top of Painswick Beacon in The Cotswolds, Ashley and I were having a romantic moment after a long walk in which I'd taken a wrong turn and nearly had us squished like a fox on a B road!
I'd surprised her with a trip having suggested she pack a swimsuit and her passport.
As we drove down the M4 she kind of twigged as we zoomed past the Heathrow turn off!
We stayed at Byfield House which caught my eye as it's the number one B&B in the Cotwolds on Trip Advisor.
Jill and Brett's hospitality was just amazing. Greeted like long lost friends with TWO bottles of wine, we were sloshed before we got to the pub to devour wood pigeon, duck and fish and chips!
£75 a night to stay in an antiques haven, with a healthy breakfast instead of a heavy cooked one, meant were able to enjoy some great food after exploring the countryside at the Royal Oak and St Michaels Restaurant the following night who did us a nice chocolate cake for our anniversary….after we'd scoffed some sumptuous puddings and cheese!
[Loosens waistband.]
We had such a lovely time. Think everyone should make a trip this part of the world as it's just 2 hours max from London.
Seems we have a habit of climbing hills with romantic notions.
The last time was when we got engaged!
Liked this blog post?
Subscribe to the RSS feed or to email updates!