Bill Gates was in town yesterday for a whirlwind trip which included a meeting with Gordon at No 10 and a stint at the IOD. This was his last visit to the UK as a full time Microsoft employee.

You can see what he has to say to the Institute of Directors World Leader Lunch which includes a very candid 40 minute Q&A!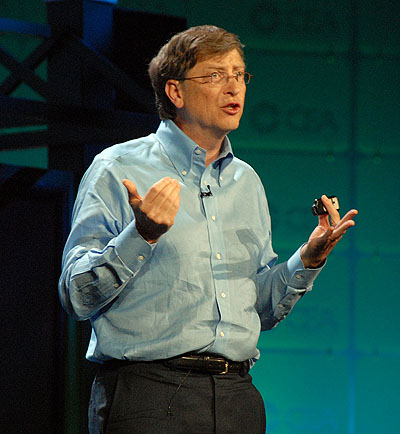 Highlights:
Pace of innovation over the next 10 years quicker than the last 10
The way we read newspapers will change and we'll see delivery of TV over a personalised channel
Whythis change? Exponential growth in efficiency of hardware and storage capacity is fueling us to be more ambitious
Computing has become a tool to equalise the small business with the large business.
Huge democratization from having the internet as a tool to market your products and services.
Microsoft's $6b in R&D – devices will become a lot smaller and powerful and all will connect to the internet.
What does this mean at the consumer level? Messaging & search will get better but it's the knowledge workers that will be empowered in a more efficient way, helping maximise productivity.
75% of training is now done using video at Microsoft.
We need to unify phone, computers, internet and TV. The "internet with software" will get bigger, enabling different sorts of communication channels, reducing cost and complexity allowing more capability.
He also does a demo of Microsoft Surface!