I often use Google Alerts to give me the heads up on what people are saying on blogs and forums about Microsoft adCenter, Live Search and Microsoft in general. It's a great way to measure the buzz in the market place and judge the temperature of opinion.
My own name is on the list because I do a lot of speaking and while it's good to get feedback, not everyone emails me and says they've written about the presentation or lecture.
This way you can measure your online reputation and get to know pretty much instantaneously when someone's published some sentiment about you or your company.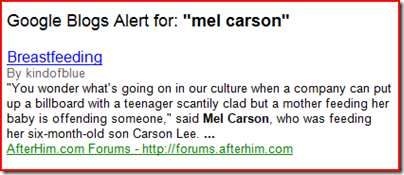 However, as you can see from above, even Google throws up some spurious results!
I've been following online conversations about "Faile", the New York street art collective, because I recently bought one of their pieces.
You'd be surprised how many people spell "failed" wrong when talking about dismal exam results on their blogs and in chat rooms! 🙂