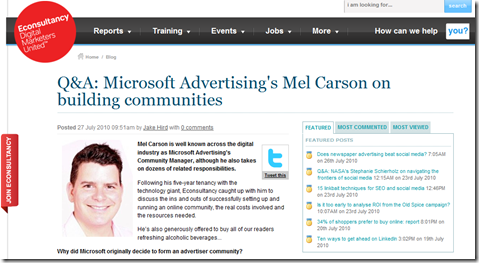 Super-chuffed to have been asked by Jake Hird at Econsultancy to contribute an interview to their blog. I've known him for a while now and am always impressed with his industry knowledge, and the way he spreads such great and useful insight on Twitter etc…
Just happened this way, but an interview with Bas at State of Search went live about the same time – A summer interview with… Mel Carson (@melcarson): "Discoverability + Shareability"
Last week, I did a radio show with him and Roy in which we talked about a whole load of digital delights.
Others:
Media Week
Microsoft Advertising Blog 
Get Great Digital Ideas from our US and EMEA Creative Showcase
Test Your Digital Quotient in our Asia Advertising Competition
New Digital Research: Consumer Multi-Screen Study from Microsoft and Wunderman
TED Talks @ Cannes – Two Online Now
Video: The Future of Advertising is Here – Kostas Mallios – Digital Showcase NYC
Microsoft adCenter Blog
Celebrity Video from Dougray Scott's Leuka Charity Golf Day Sponsored by Bing
Microsoft Starts Testing on Yahoo! in Mid-July
Yahoo! and Microsoft Search Alliance News: Editorial Guideline Updates (US and Canada)
New Video from the Yahoo! and Microsoft Search Alliance: what does it mean for you?
Enjoy!
Liked this blog post?
Subscribe to the RSS feed or to email updates!