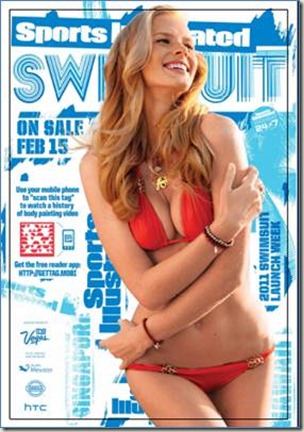 Our friends over at Microsoft Tag have helped Sports Illustrated take the plunge into mobile marketing-land with their revealing Swimsuit Edition.
When readers scan the tag they can:
· Vote for their favourite of the eight models competing for the chance to be a SI Swimsuit rookie in the 2012 issue. They can view photos and video of each model.
· Watch behind-the-scenes video of all 17 models in the 2011 issue.
· Share videos via Facebook, Twitter or e-mail.
· See their favourite 2011 models in "Model vs. Model," featuring swimsuit models matched with a Nissan car.
· Download Sports Illustrated's new Swimsuit Mobile App.
Great stuff from a team who've been covering a lot of ground recently like the new USA Today execution and 3M.
To time-pressed to read?
Spend 90 seconds watching the below video to see what Tag has to offer.
Liked this blog post?
Subscribe to the RSS feed or to email updates!