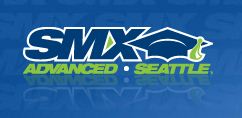 If you enjoyed the Beyond 10 Blue Links Video I shared this week, you'll enjoy coverage from SMX Advanced in Seattle in a couple of weeks because Derrick Connell, one of the many ace minds behind Bing, will be keynoting at Danny Sullivan's conference.
This is my first SMX Advanced – I've been to their events in London, Stockholm and elsewhere, but I'm looking forward to forcing my grey matter to work harder as I attend sessions such as "Hardcore Social Tactics" and "Doing Mobile Search Ads Right."
Also thrilled to be catching up with Danny Sullivan who's showcased in Pioneers of Digital, right around the time the book goes to press!
I'm told by the fabulous Akvile Harlow that the conference is sold out but that there are still tix left for workshops and networking, so follow @MSAdvertising and see you in a couple of weeks!
Liked this blog post?
Subscribe to the RSS feed or to email updates!