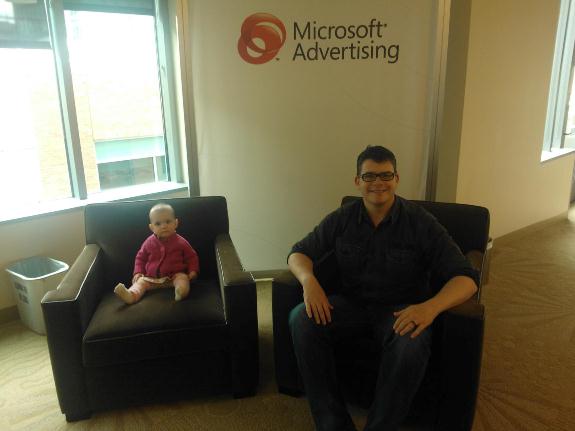 Maggie's Last Visit to Daddy's Office
Wow!
7 years (2555 days) to the day after I walked into Microsoft in London to help launch adCenter back in 2005, I was told this morning that my role has been "eliminated" in a round of lay offs.
I've been told by HR that it's fine to talk about my new job search on social networks and my blog as the termination has nothing to do with my performance in the job. So as a true social media aficionado, I'm letting you all know that while I'm sad it's come to this after creating millions of engagements online, writing thousands of blog posts, interviewing hundreds of industry luminaries and speaking at many, many conferences around the world, I have nothing but fantastic memories of working at Microsoft Advertising – 50 of which I'll write about and publish here in the next couple of weeks.
I'd like to thank all the fabulous colleagues, partners and friends in the industry I've met and worked with over the years. It's been a blast and I can't wait to see what turns up for me (and you all) next.
Obviously I'm now on the hunt for new roles and projects.
My book www.PioneersOfDigital.com will keep me busy – but any long term employment leads and suggestions are welcome via my contact form or through Facebook!
Lastly, thanks to my wife Ashley for her amazing support throughout the years. Her positiveness, drive and enthusiasm for all the work I've created over the years has been an inspiration and really kept me going.
And more recently, so has my beautiful daughter Maggie.
That's it for now! The pub beckons…..
Here's the the next 7 years!
Liked this blog post?
Subscribe to the RSS feed or to email updates!