Update: Not sure I made it clear below but this is a US release with some content available from some countries thrown in, including the UK. Check out this video for more on Reuters. I think you'll agree it's a great showcase for what's in store but for now outside the US http://www.bing.com/maps is still the de facto experience.
——————————————————————————————————–
Not content with sitting back and delivering a simple mapping solution, the guys from Bing have created what is simply an awesome and groundbreaking experience which takes some of the best Microsoft technologies and melds them together.
Check out http://www.bing.com/maps/explore
A simple search for "Trafalgar Square" renders what you'd expect right? – A map!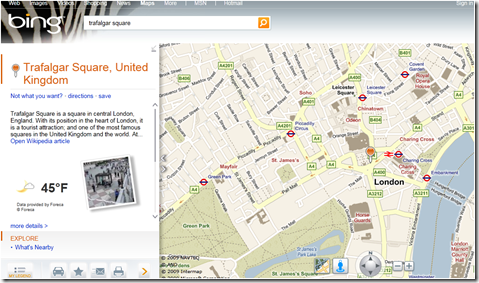 Just to the left of it though, is some info on the landmark from Wikipedia and some useful weather information but wait….there's more….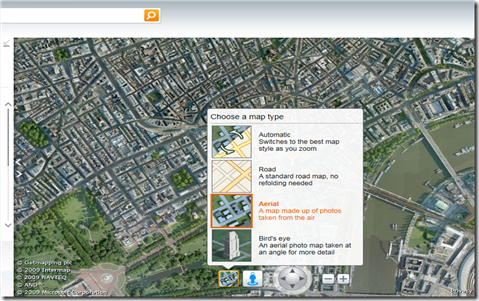 Click on the icon at the bottom of the page and you get four types of view – Automatic, Road, Aerial and the fabulous Birds Eye!
But wait…….there's even more….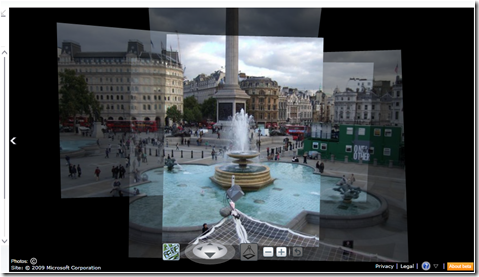 Click on the little guy icon for a choice of views made up of Photosynths made by our community of UK photographic enthusiasts.
But….ok….you guessed it…..there's a little bit more….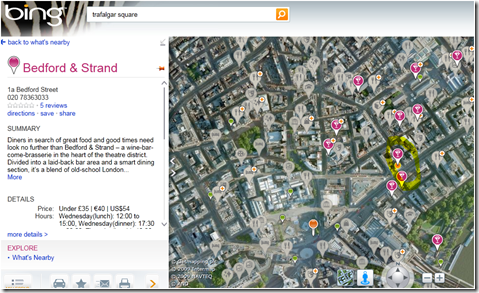 If you go back to the regular results and click under Explore – What's Nearby – Bing throws up restaurants, bars, hotels and cafes!
Check out and have a play at Kew Gardens – Stonehenge – London Eye
The US takes it a step further with Streetside – take a look around the streets around the Empire State Building!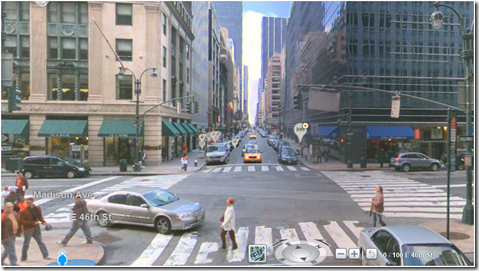 I was lucky enough to meet Blaise a couple of years ago, and he said this was the vision, but never in my wildest dreams did I think the experience would be this damn good!
Liked this blog post?
Subscribe to the RSS feed or to email updates!