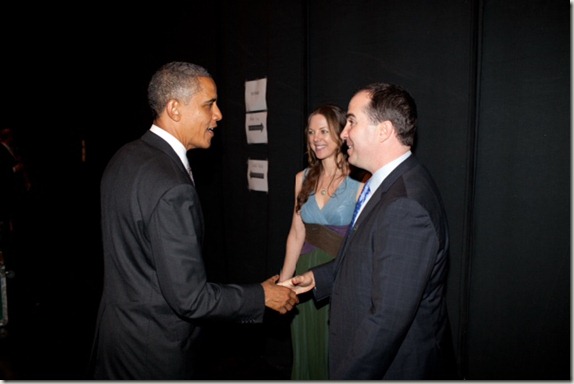 One of the nicest people I know is my brother-in-law, Josh LaBelle.
Josh is married to Ashley's sister, Colleen, and runs the Seattle Theatre Group which includes the Paramount, Moore and Neptune theatres in the city.
A couple of weeks ago, Barak Obama was in town for a whirlwind visit, which included a fundraising lunch at The Paramount.
Josh got to meet him backstage and said he was delightful!
I've never met a head of state, although I was looking at some leather wallets in a tent at the Windsor Horse Show in 1997 and heard a familiar voice next to me ask the local craftsmen, "Do you make these yourselves?"
It was The Queen of England!
Liked this blog post?
Subscribe to the RSS feed or to email updates!