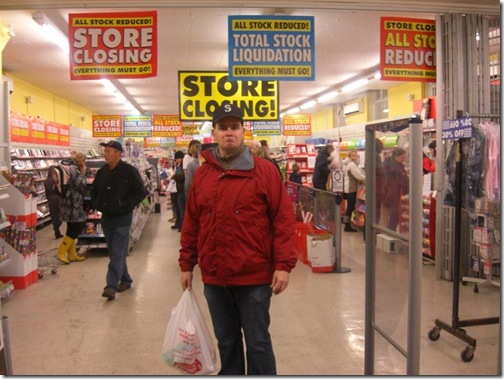 My local Woolies closed down weeks ago so on a visit to my brother in Seaford at the weekend, we popped in to say goodbye to a British institution.
The first music I ever bought was an Elvis greatest hits album from their branch in Haywards Heath in Sussex. It was a tape! They didn't have CDs in 1983! 🙂
I remember like it was yesterday, so imagine the coincidence when languishing on a sale shelf I spy a double album of Elvis Live In Concert for £4!
With CD in hand, my last ever pick 'n' mix and some presents for my US colleagues that I'll see on Friday in Seattle, I got to the check out.
Firstly those horrid folks at American Express had shut down their service with Woolworths so I was 27 airmiles down before I'd even paid the bill. 🙁
Secondly – they didn't have the CD – it was just an empty box but at least I got to see a spotty teenager rummaging around in the CD drawer for one last time! 🙂
As Dave says, it's hard to believe the show's all over after 99 years.
I hope they look after the staff or they at least find alternative work soon.
As for any left over cola bottles and white chocolate mice? Well I'm sure Victoria and Ripon could take a few off their hands for a discount! 🙂
Liked this blog post?
Subscribe to the RSS feed or to email updates!