Joost has written a good sum up of a4uexpo and Dave has written about last nights dinner so I'll write up my thoughts on my Media Week blog tomorrow.
In the meantime thanks for all the great feedback about Dixon, mine and Tor Crockatt's presentation.
I was asked about the the opening of my talk so do read the Cost Per Monk story and feel free to mention it whenever appropriate!
It was great to meet even more SEO's and internet marketers including Al Carlton, Patrick Altoft, Marcus Tandler, Todd Crawford who shared some great stories and tips over some great Thai food.
Big hand to Matthew Wood for a great show. Gawd knows how he felt this morning!
If you ever wondered what it's like up there on a panel – see below!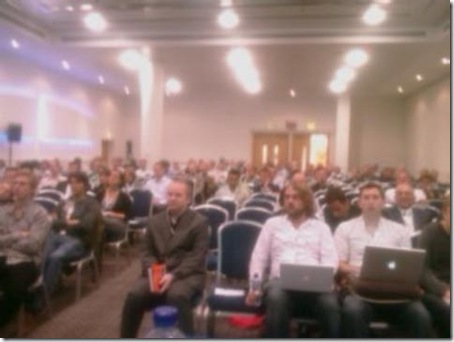 That's  Anthony Shapley in the front row holding the orange show program. He's not just a talented SEO but an awesome photographer!
And it's his 21st birthday tomorrow!
Liked this blog post?
Subscribe to the RSS feed or to email updates!