Later this month on the 27th October, I've been asked to sit on an esteemed panel in Seattle to discuss the US election and give a British perspective and my opinion on how digital and social media has been a factor in the presidential race we have seen so far.
Here's how my colleagues at the Britsh American Business Council are framing the discussion:
As the US approaches the eve of election night, the country does so facing many of the same instabilities and angst that faced the UK as the vote was cast in favor of a Brexit. While our two countries share some similarity in political situations, each is still unique and the outcome for America still unpredictable. As US voters ready to head to the polls this November, what influences, rhetoric and facts could impact the ultimate result? Join with local experts in a lively, engaging and timely discussion as they explore the rollercoaster dynamics of this year's US election season, including the connection to UK voter sentiment, media and millennial influences, emotional drivers and the expected aftermath on Nov. 9.
Panellists beyond myself include:
David Postman – Chief of Staff to Washington Governor Jay Inslee
Randy Pepple – President of Persuasion Communications, and Executive Director of the Reform Alliance
Ian Toner – Managing Director of Strategic Research at Verus Investments
John Dickerman – Head of Washington Office Confederation of British Industry (CBI)
Gareth Wade – our brilliant BABC chairman – will be moderating.
I'm looking forward to it as I think I'll learn a lot from these guys. This election has been an incredible beast and I'm thrilled to have a forum in which to dissect and try and make sense of it!
If you're interested in attending please register here: Pre-Election Breakfast BABC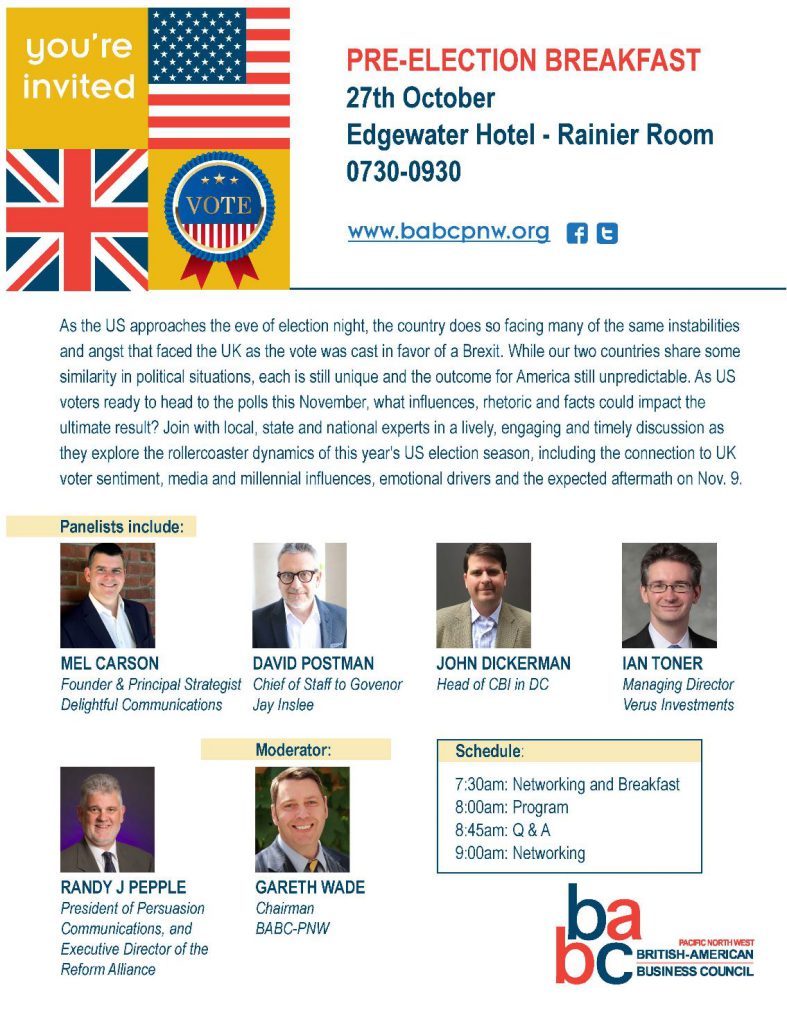 Liked this blog post?
Subscribe to the RSS feed or to email updates!