I didn't make it to Search Engine Strategies yesterday as I was busy getting set up for my announcement today about the UK adExcellence Launch.
The SES Photos I posted yesterday have been doing the rounds, and as you can see the event was pretty big and everyone was having a great time.
My favourite session on Monday was the Orion All Star Analytics Panel: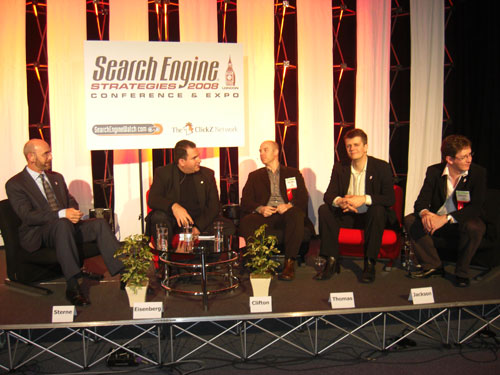 Jim Sterne – Bryan Eisenberg – Brian Clifton – Ian Thomas – Steve Jackson
I think it was a bit of a coup having some of the worlds finest web-metric minds on one stage, and the hour wasn't a disappointing one.
Moderated by the enigmatic Kevin Ryan, the session dived straight into why advertisers should take advantage of the free packages out there – Google Analytics and the spanking new Microsoft Gatineau.
Brian E was quick to encourage people to go with them as they would have 65-70% of the functionality of more sophisticated, paid-for solutions.
It didn't take long for the issue of privacy to come up. Should advertisers trust such big companies with their data, especially as they're running the PPC campaigns many advertisers rely on for traffic too?
Jim responded to the doubts about trust and privacy by saying search engines know an awful lot about us and poo pooed the notion that anything sinister was going on by saying, "I'm upset that my bank knows how much money I have?!"
There was a suggestion that because the engines might know the conversions advertisers receive, they could somehow artificially inflate CPC prices. Brian C was quick to dismiss this by saying the market sets the price in the auction not the engine.
An over-riding theme was one concerning the lack of actual analysis of the data. Companies simply don't have the resources to look at the data and take action. Steve talked about clients of his who are companies part of larger groups. The larger group has an analytics solution which, when the reports filter down to the individual company marketing departments, they simply don't know what to do with the data.
Some expert tips included:
Jim – Look at behaviour. Segment based on your audience behaviour, finding out why a particular segment landed on a particular landing page using a particular KW.
Brian C – Check your bounce rate. Why are users coming to a page and then leaving it without going anywhere else on your site? - A single page visit.
Ian – Check out Gatineau's demographic capabilities. See which age/genders favour what pages and adjust landing page products and text accordingly.
The there was talk of marketing effectiveness. The need for people to start using analytics wholesale is apparent but some companies are starting to get and understand the opportunity to take an authoritative view of the site.
All the panellists agreed that analytics isn't accurate – you're looking at trends. A lack of standardisation, different methodologies, different sessions and suchlike mean having spot-on stats is unlikely.
Before they all gave a "must-track-stat", the subject of social-networking was touched on. How do you put a $$ value on a conversation? It's not just about traffic, you're driving customers to take action, to buy something or sign up.
Social measurement will involve tracking the conversations and assessing their impact but organisations have to get involved and wake up to this new phenomena and get out of their two-dimensional view of their world.
Killer Tips:
JS – Think E-Metrics not just Web Analytics
BE – More awareness of conversion rates
BC – A/B testing
IT – More understanding of privacy issues
SJ – We need to create a culture in companies to embrace web analytics
A point Ian made stuck out for me, when he foresaw analytics automatically being folded in to online advertising products and services in the future.
What does he know that I don't? Better get a job in Redmond!
{UPDATE 22/2: Ian now wants you to Trust Him!}